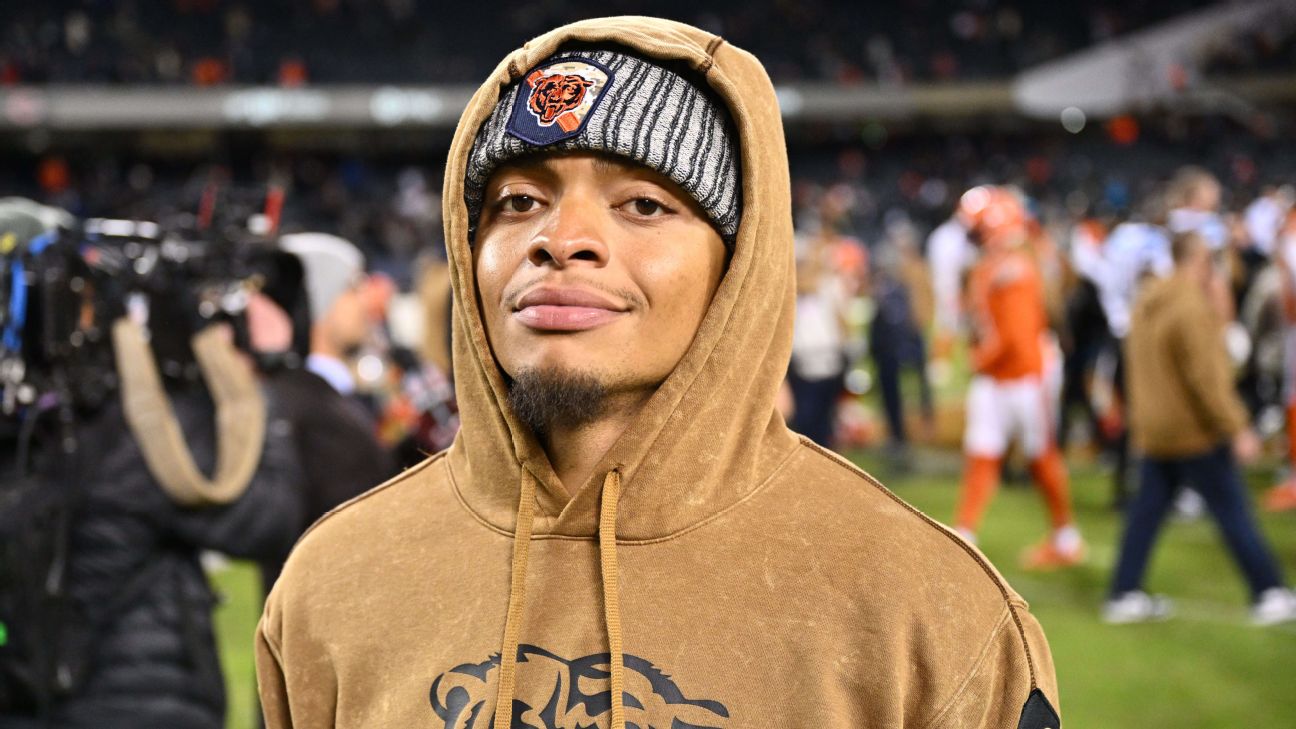 LAKE FOREST, Ill. — The Bears plan to start quarterback Justin Fields against the Lions in Week 11, coach Matt Eberflus announced Wednesday.
Fields, 24, dislocated his right thumb on Oct. 15 and was sidelined for Chicago's past four games. The quarterback began throwing when he returned to practice in limited capacity on Nov. 3 and is expected to be a full participant during Wednesday's session.
"We're excited [to see] where he goes and again, this will be a big evaluation today … about going full speed, doing full speed reps and all that," Eberflus said.
Field's return coincides with the Bears getting healthy on the offensive line. Nate Davis, who sustained a high ankle sprain against the Vikings, is expected to start at right guard with Teven Jenkins moving back to left guard. This is the healthiest the Bears have been up front since before the calf injury that Jenkins sustained in mid-August, which forced Chicago to shuffle its starting offensive line combination.
The Bears won one game with Fields at quarterback this season, beating Washington in Week 5. He put together his first 300-yard passing performance and threw for four touchdown passes in a 40-20 win over the Commanders.
In five games before sustaining injury, Fields threw 11 touchdown passes and six interceptions. He is 14th in passer rating (91.6) and 26th in QBR (39.1). The Bears are 3-7 ahead of two meetings with Detroit over their next three games, and Chicago believes Fields has ample opportunity to prove he can be the long-term option at quarterback.
"I think seven weeks is enough time to show consistency and being the high performer that we expect him to be," Eberflus said. "I know he's had some good performances along this year, certainly the last few have been solid. We expect consistency out of all our positions."
Having Fields at quarterback opens parts of the game plan that the offense did not use with rookie backup Tyson Bagent, according to Eberflus. While Bagent transitions back into his No. 2 role, the Bears are pleased with the progress the undrafted free agent made in his four career starts.
"We never put ceiling on players, but we certainly like where his floor is because the sky's the limit for everybody," Eberflus said of Bagent. "You never want to do that. Guys can grow into certain spaces that they didn't even think they could. So, you have to give them that opportunity, but we certainly like where he is right now."