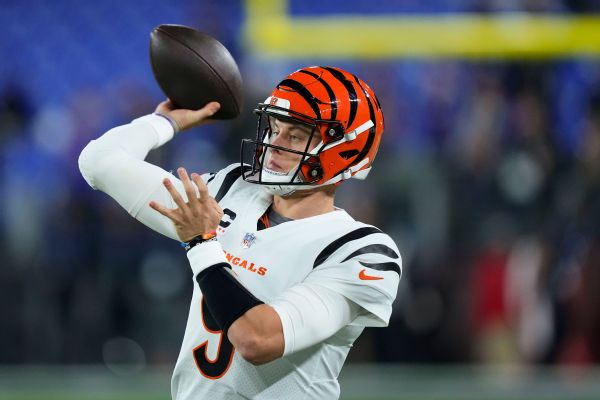 BALTIMORE — Preliminary evaluations show Cincinnati Bengals quarterback Joe Burrow suffered a sprained right wrist in Thursday night's 34-20 loss to the Baltimore Ravens at M&T Bank Stadium, coach Zac Taylor said.
Burrow did not finish the game after he exited in the second quarter. Afterward, he was seen wearing a multi-layered wrap in the locker room.
Taylor said Burrow fell on the wrist earlier in the game before he appeared to be in serious pain after throwing a 4-yard touchdown pass to running back Joe Mixon. That was Burrow's last play of the game.
"It looked like he sprained his wrist," Taylor said. "Fell on it early in the game and then felt it on the touchdown pass."
Taylor didn't have any further information immediately after the game.
It's unclear when Burrow first had discomfort with the wrist. On his touchdown pass to Mixon, he was not contacted by any player but immediately dropped to a deep squat on the field. Burrow went into the team's medical tent for a few minutes and returned to the sideline.
As he attempted to warm up with light tosses, Burrow repeatedly dropped the ball at the end of his throwing motion. In one instance, he dropped to the ground again before he gathered himself to make another attempt.
After that sequence, he immediately jogged to the visiting locker room.
Burrow was 11-of-17 passing for 101 yards and a touchdown. He was replaced by back-up quarterback Jake Browning, who was 8-of-14 passing for 68 yards and a late touchdown pass to wide receiver Ja'Marr Chase.
Before the game, Burrow was spotted coming off the team plane wearing something on his wrist that resembled protective gear. Burrow had not been listed on the injury report during the week and Taylor said he was not aware of Burrow dealing with any wrist issue.
"That was the first I saw anything about it," Taylor said.
Taylor said he "absolutely" felt good about Burrow heading into the game.
"Look how he played in the first half," Taylor said. "He did everything we needed him to do."
Bengals center Ted Karras said conversations at halftime were standard as Cincinnati faced a 21-10 deficit and Browning prepared to finish the game.
"No panic, just making some adjustments, what we're gonna come out with in the second half," Karras said. Obviously didn't execute it [at] any sort of level that would've won the game."
Thursday marked Browning's first high-leverage reps as an NFL player. An undrafted free agent out of Washington in 2019, he had been on Cincinnati's practice squad from 2021 until this year when he won the back-up job over Trevor Siemian in training camp.
His only pass in a regular-season game before Thursday was an incompletion late in Cincinnati's 24-3 loss to the Cleveland Browns in Week 1 this season.
But Browning, who has been consistent in his preparation in case he needed to enter a game for Burrow, was confident when he was pressed into action. Browning also had to be on standby earlier in the year as Burrow battled a nagging calf injury that he initially suffered on the second day of training camp.
"I didn't feel like I was out of place or anything like that," Browning said after the game. "But I didn't really feel that way coming in, either. I've had a lot of really good years on practice squads, waiting for an opportunity."
Taylor said he had no information about the extent of Burrow's injury aside from a two-second exchange where he initially learned of the wrist issue. Taylor said he felt that the team's morale wasn't impacted when Burrow left the game.
"I didn't feel like for one second the wind was out of our sails and guys were letting things happen," Taylor said. "I feel like down-in, down-out on defense those guys were fighting their tails off."
Burrow wasn't the only significant injury on Thursday. Starting cornerback Cam Taylor-Britt left the game with a quadriceps injury. Taylor didn't have any definitive information on the second-year defender's status.
Coming into the game, Cincinnati knew the stakes were high as the Bengals faced the division-leading Ravens (8-3). With Thursday night's win, the Ravens earned a season-sweep over the Bengals, while Cincinnati remains last in the division and will have an uphill climb in its postseason push, regardless of Burrow's status.
Bengals wide receiver Tyler Boyd said the team must rally even as it comes to grips with Burrow's injury.
"It hurts us a lot," Boyd said. "That's our best player. All we can do is keep preparing, keep moving forward and just go out there and make plays for Jake any way we can."