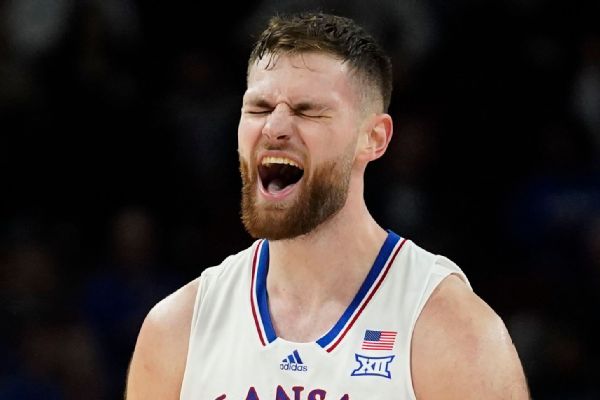 CHICAGO — For 40 minutes, Hunter Dickinson did what he always does.
He pumped his fist after he made clutch shots, he chirped at the crowd and talked trash to his opponents during No. 1 Kansas' thrilling 89-84 comeback victory over No. 17 Kentucky on Tuesday in the Champions Classic at the United Center.
With an outstanding effort — 27 points, 21 rebounds (both a career high and Champions Classic record) and three steals — Dickinson also did something else: He made the case that reigning Wooden Award winner Zach Edey will have a serious competitor in the national player of the year race.
"[Coach Bill Self] was talking about the bright lights of playing in the Championship Classic," Dickinson said after the game. "That's something that a lot of people dream of being able to play in. So I feel very fortunate to be able to do that. It helps that I played pretty good — to be able to let [everyone] know that you're playing good."
Dickinson's effort, which marked the first time a Kansas player registered 20 points and 20 rebounds against a ranked opponent since 2003, punctuated a furious comeback by the Jayhawks.
With 16:21 to play, the Jayhawks were down by 14 points (58-44), but they finished the game on a 45-26 run to win. Kevin McCullar Jr. (12 points, 10 rebounds, 10 assists) recorded the school's first triple-double since 2012, while K.J. Adams Jr. scored 16 points and Dajuan Harris Jr. contributed 23 points and seven assists.
But Dickinson's effort changed the game. And his flair energized — or irritated — the crowd depending on what side you were on.
"[Self] really told him that he should get 10 rebounds a game, but I didn't even know he had 21 rebounds until [Self] said it in the locker room just now," Harris said. "But we need him to be a monster. That's why we got him and I think that was probably his best game, probably, in college."
Against a Kentucky squad led by five-star freshmen — Reed Sheppard finished with 13 points (3-for-4 from the 3-point line) and Rob Dillingham had 18 points — and a handful of veterans, Dickinson got to the rim and muscled his way around the lane late in the game.
Kentucky's Adou Thiero said it was difficult to stop Dickinson, who didn't stay quiet.
"He's a good player," said Thiero, who finished with 16 points and 13 rebounds. "He was able to get to his spots, get in the post, go up and finish it. He was talking a decent bit of smack but it's part of the game so it's all love."
Kentucky entered the matchup without three of its key big men: Aaron Bradshaw, Ugonna Onyenso and Zvonimir Ivisic. Bradshaw and Oyenso are dealing with injuries and Ivisic is waiting to get NCAA clearance to play.
Kentucky coach John Calipari said he's still learning more about his team and who to play down the stretch. He said the Wildcats, who shot 38 3-pointers, will continue to grow. He also said the absence of his three big men is not an excuse for the loss.
"You know, one guy's misery is another guy's opportunity," Calipari said. "So [Jordan Burks] did well. [Thiero] did well. They're taking advantage. So when these guys come back, we'll figure it out."
Dickinson said he understood the stakes of playing his first matchup with Kansas against a ranked opponent at the United Center. And he welcomed the pressure. Those traits, Self said, help everyone on the team.
"He catches some crap," Self said. "Sometimes with good reason and many times not. He catches some crap, but one thing he does, he doesn't run from it. Ever. So I think guys like that give teams confidence."
ESPN Stats & Information contributed to this report.