France had once been home to many sports car makers, but by the 1980s there was only Renault-Alpine. Engineer Claude Poiraud and designer Gérard Godfroy of coachbuilder Heuliez spied a gap for a French answer to Porsche, and their prototype so impressed financier Hervé Boulan that he founded MVS to productionise it, building a team that included chassis experts from Le Mans-winning race outfit Rondeau. 
And so at the 1986 Paris motor show arrived the Venturi coupé, a direct rival to Alpine's two-year-old GTA (whose A310 predecessor Poiraud had actually worked on) that used the 200bhp inline four from Peugeot's 505 Turbo saloon. 
Comparing the two, our French correspondent favoured the GTA's equally potent Peugeot-Renault-Volvo 2.5-litre V6 – and indeed so did MVS, as it switched to this engine before production started. 
Although the ride and handling weren't yet finished (MVS being particularly unsatisfied with the rear suspension), we found it to be "basically all right; certainly no worse than the GTA" to drive. 
The manual gearbox was a bit notchy – perhaps unsurprisingly, as it came out of the Citroën CX. 
"It's a basically sound design needing adjustment," we said. "It deserves more development, and the company deserves to do well."  It got just that through the '80s and '90s yet was still never a big seller, and after a few ownership changes, sales ceased in 2000.
More power and soft-top bodystyle for class-leading Peugeot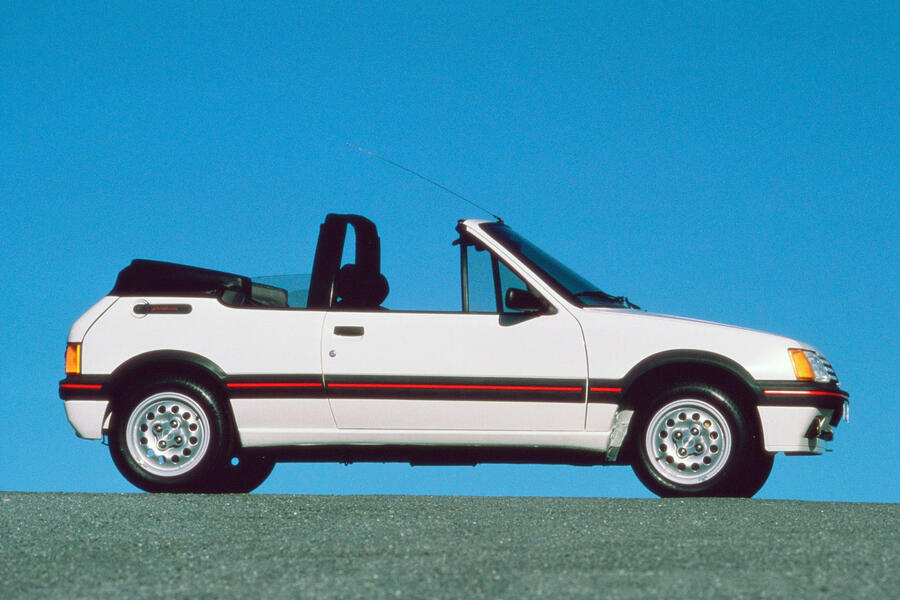 The Peugeot 205 GTi was an instant classic upon its 1984 arrival, being "the best of the lot in combining the roles of sporting hatchback, useful load-carrier and relaxed long-distance cruiser". And two years later, we were happy to find that the revised model hadn't "notably lost any of its tractability or responsiveness".
There wasn't too much difference, mind you, the 1.6-litre four-cylinder engine having been boosted from 105bhp to 115bhp by way of revisions to the cylinder head and ignition timing. Power still peaked at 6250rpm but the redline was raised by 400rpm to 6900rpm – although torque actually had fallen 0.6lb ft.
Performance proved virtually identical up until 70mph, but then the better breathing came into play, and the new car hit 100mph 2.9sec quicker.
Of even greater intrigue was the new 205 CTi soft-top, built by Pininfarina and state of the art in that it had a new 'skeleton' (comprising the crossmembers, rear end, screen rail, pillars, sills and doors) to minimise the reduction in rigidity. Crucially, the hood was easy to manually operate and well sealed when up; and wind buffeting was minimal when it was stowed away.