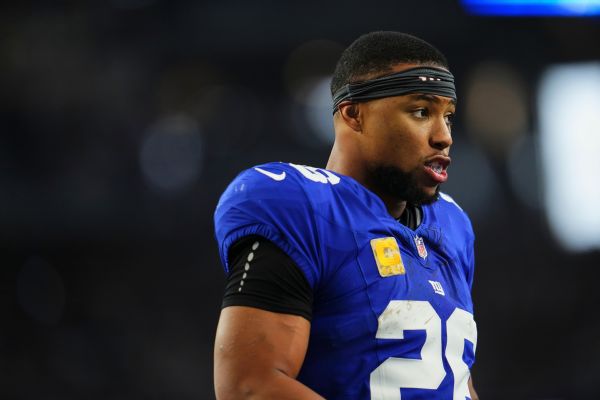 EAST RUTHERFORD, N.J. — The business of football has left an indelible mark on New York Giants running back Saquon Barkley, who stated Thursday that "loyalty means nothing."
Barkley is coming off an offseason in which he failed to reach a long-term deal with the Giants and was franchise-tagged. He reported on the first day of training camp with an adjusted tag for one year at $10.1 million with approximately an additional $900K available in incentives.
Clearly there are scars. Barkley, who leads the Giants with 568 rushing yards, was asked Thursday if being a good soldier and handling a huge workload would be viewed as a benefit when it came to getting a new contract (whether it be in New York or elsewhere) because of his loyalty to the organization.
"Loyalty means nothing," he said. "Loyalty, that don't mean nothing. No matter how loyal, no matter how committed you are, it's a business at the end of the day. That is something that I have learned."
The position that Barkley is in now is tricky. He's a free agent again after the season. The Giants (2-8) are struggling but need him desperately. They have the NFL's 32nd-ranked offense and an undrafted third-string quarterback in Tommy DeVito starting.
Barkley playing and receiving a heavy workload could be viewed as detrimental to his value. The mileage on a 26-year-old running back matters.
"Yeah, it's really crazy when you break it down like that. It's just the way the business is," Barkley said. "When you're a premier back in this league — not to talk about myself — they feed you the ball because it helps you and gives you an opportunity to win games more times than not. And then when it comes to contract or a certain time and you're a running back, you having so much miles on you, it's a crazy concept.
"I try my best not to think about that or I would go insane. I just try to keep focus on the love of the game, take care of my body and whenever the opportunity comes to talk contract again — whether it's with the Giants or another team — hopefully I'm able to pull the film or pull up numbers to be able to get a contract that is the best for me and my family.
Barkley has stated on numerous occasions he wants to remain a Giant for life. Legacy matters to him. He wants to be in New York for his entire career.
The Giants still could use a second franchise tag on Barkley after the season. The business part of it all is something he's trying not to think about.
"For me, the way I try to handle that, I try not to focus on that. I try my best not to think about it," he said. "I feel every week I have to answer a question about it. I get it, you guys are doing your job. That is the only time it really crosses my mind, to be completely honest. Because if not, I would go insane. I would lose my mind if I was able to focus on that. I try to keep the main thing the main thing. I continue to enjoy the process, take it one day at a time."
At the moment, that means playing through some discomfort. Barkley is still dealing with the aftereffects of the high ankle sprain that cost him three games earlier this season. He admitted after getting it landed on in Sunday's 49-17 loss to the Dallas Cowboys that it's an injury he'll be dealing with for the remainder of the season.
Barkley has been listed as a limited participant in practice this week. The Giants face the Washington Commanders on Sunday at FedEx Field, and Barkley expects to play.
The Pro Bowl running back is not even thinking about shutting it down.
"I don't look at it that way," he said. "I just focus on going out there, trying my best and make no excuses. Go out there and try to compete and play at a high level for my team, no matter the circumstance.
"I've been injured enough. I've torn an ACL, been out a whole season. So if I'm able for the love of the game go out there and play and protect myself and compete for my team, that is always something I'm going to try to do."