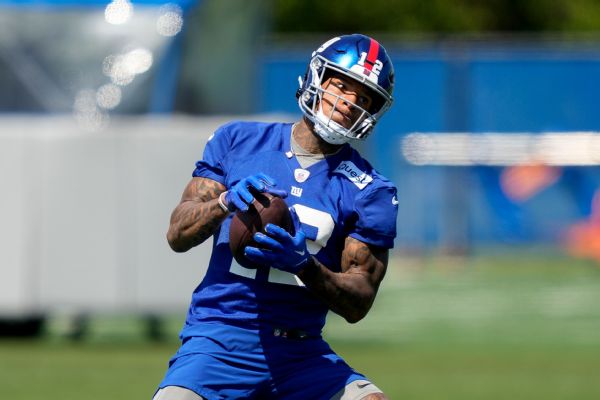 EAST RUTHERFORD, N.J. — New York Giants tight end Darren Waller doesn't believe the hamstring injury that made him questionable for Sunday's loss to the Dallas Cowboys is cause for much concern. It certainly won't keep him from being on the field this week at Arizona.
The Giants, with Waller, play the Cardinals on Sunday.
"No, I'm playing," said Waller, who had three catches for 36 yards in his debut.
The bigger concern for the Giants this week is standout left tackle Andrew Thomas. He's dealing with a hamstring problem as well and, after missing practice Wednesday, was on the field in a limited capacity Thursday.
"He's a tough guy," coach Brian Daboll said. "He said he wants to do some stuff and see how he feels."
Waller practiced Thursday after having a "vet day" on Wednesday. Daboll said that was always part of the plan for Waller after several injury-plagued seasons in Las Vegas.
The Pro Bowl tight end was the Giants' marquee move this offseason. He's their No. 1 receiver in an offense they were hoping would be more explosive this season.
The question surrounding Waller since his arrival has been whether he can stay healthy. The Giants are doing everything in their power to make it happen.
Waller came to New York with an extensive injury history. He missed eight games last season because of a hamstring injury, and has missed 14 games in the past two years combined.
Waller conceded Sunday it's the same hamstring (his right leg) that kept him out a chunk of last season. But it's a different type of problem. They're not even comparable, he says.
"No, not really just because as far as the severity of last year and the time it forced me to miss, it's nowhere near that," Waller said. "Last year there was legit times where I couldn't run because my hamstring is pulled.
"But I can run at practice [Thursday], run routes and do it for two hours, so I'm like, 'I feel great.'"
Waller explained after Sunday's 40-0 loss to the Cowboys that it was a more a nerve problem than something muscular. That set off an alarm for some. But Waller said Thursday it was a little scar tissue that compressed the nerve and caused some discomfort.
The belief is that it is something that can be managed rather easily.
"A matter of getting that stuff out of there," Waller said.
The 6-6, 238-pounder looked to be moving unimpeded during the open portion of practice on Thursday. It seemed to validate that the previous day's missed practice was because of rest, and not the hamstring.
Waller was listed on Wednesday's injury report as did not practice because of hamstring/rest. He was officially listed as a limited participant in Thursday's practice (hamstring/rest).
Daboll plans to rest Waller once a week to assure he has the best chance of staying healthy. It will primarily be on Wednesdays.
It's part of the plan (based on sports science) that the Giants created for the talented tight end when he was acquired. Waller is on board.
"Yeah, just trust whatever the coaches have in mind," he said. "I want to be out there and work. Sometimes to my own detriment, I'll run myself into the ground. It's good to have a plan and I feel like I'm always going to trust what the coaches and people above me have to say and their opinions. I'm just going to follow what they want me to do."