If you need to charge an electric car at an apartment or flat and you don't have access to a domestic wallbox, then the increasing number of lamp-post charging units will be of interest. Shell-backed firm Ubitricity is a major player with 7000 street-side chargers available, making it the biggest network in the UK.
With electricity trickling in at around 5.5kW it's not the fastest, but you'll pay 40p per kWh during the day and 37p per kWh between midnight and 7am. There's a 35p connection charge and a £25 pre-authorisation fee to ensure you've got the funds for a full charge.
How much does motorway charging cost?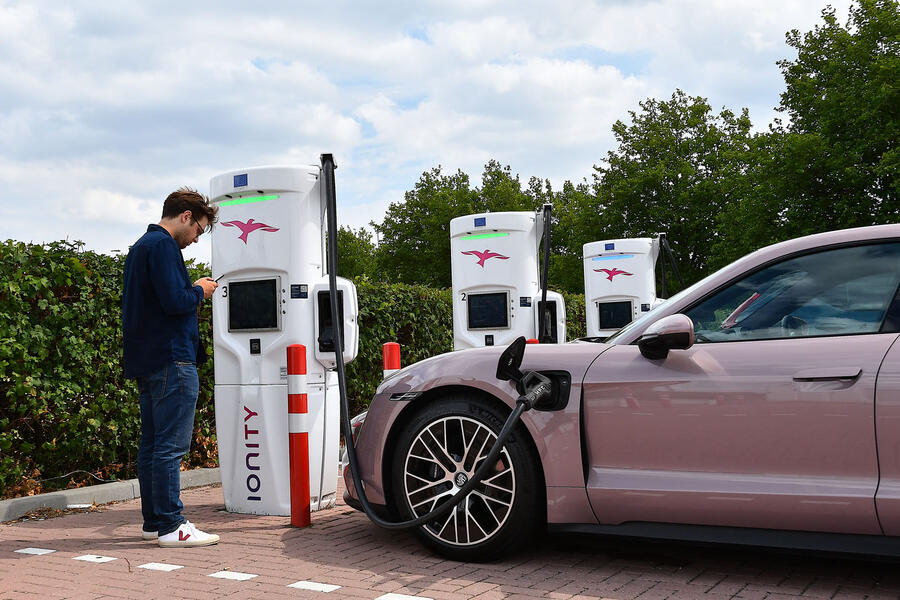 You will pay a little more to charge at a motorway service station, largely because most of the chargers there are fast or rapid units. Until recently, Ecotricity was the only provider at these locations, with around 300 chargers available, but it has now been joined by companies such as Ionity.
In the case of Ecotricity, it sold its Electric Highway network of chargers to Gridserve, which promises greater investment and more 350kW rapid chargers. Over the rest of the Electric Highway network, there's the existing choice of both AC and DC charging options, all with a 45-minute maximum use time. There are only a handful of the 22kW AC fast chargers left, and these cost 49p per kWh. 
The rapid DC chargers offer 120kW, 180 kW or 350kW charging and can be all be used on a pay-as-you-go basis at both its motorway services locations and Gridserve Forecourts, which are essentially stand-alone hubs on main trunk roads and provide amenities such as cafés and newsagents. The firm also recently revised its prices, with all DC charging rated at the same 69p per kWh, although its pre-authorisation requirement has been slashed to just £1, with the exception of its Super Hub and Rugby Services in Warwickshire, where the fee is £35.
Rival firm Ionity costs a little more for pay-as-you-go customers, with a price of 74p per kWh, but commercial tie-ins with EV manufacturers such as Audi, BMW, Jaguar and Mercedes-Benz entitle drivers of these cars to lower rates. On the plus side, all of its units are capable of charging at up to 350kW.