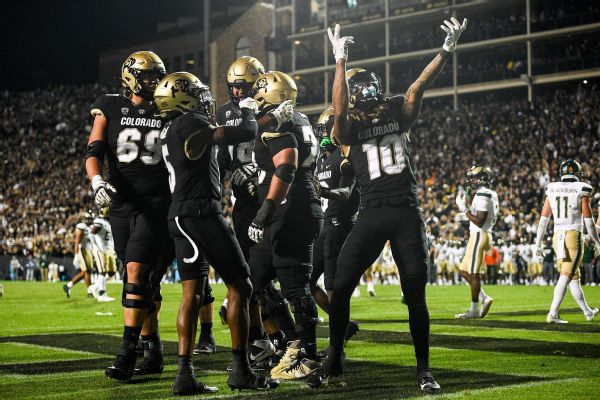 BOULDER, Colo. — On a day when Boulder became the center of the college football world, No. 18 Colorado escaped with a 43-35, double-overtime win against Colorado State to finish nonconference play undefeated.
There were several moments where things almost fell apart for the Buffaloes, only for them to roar back to keep the game alive.
"We showed that we were resilient. We showed that we would fight," coach Deion Sanders said. "We showed that we had no surrender or give up in us, and that's a lot for a team that's fairly new."
Things were most dire when Colorado State, leading 28-20, punted and pinned the Buffaloes at their own 2-yard line with 2 minutes, 6 seconds to play. For a Colorado offense that had gone eight straight drives without a touchdown, the prospect of needing to go 98 yards and then convert a 2-point conversion might have seemed insurmountable. Some fans began trickling out of Folsom Field.
Those who left missed seeing quarterback Shedeur Sanders engineer a seven-play touchdown drive, capped by a 45-yard touchdown pass to Jimmy Horn Jr.
"We do it in practice all the time, so it's not really a surprise to us," Sanders said of the 98-yard drive. "We like these high-pressure moments, and I guess that's what we live in."
Mikey Harrison caught the 2-point conversion pass then both touchdowns in overtime, leading Colorado fans to rush the field for the second straight week.
"Last week, I stuck around on the field a little bit, but this week I went straight to the locker room because it gets pretty crazy out there," said safety Shilo Sanders, who forced two turnovers, including a pick-six. "So we're making improvement off the field, making smart decisions."
The aftermath featured a much-anticipated handshake between Colorado State coach Jay Norvell and Sanders, in the wake of comments Norvell made earlier in the week that were critical of Sanders' habit of wearing sunglasses and hats in news conferences. Neither coach divulged what was said during their brief interaction.
"I'm happy for the brother. I really am," Sanders said. "I'm happy that they fought, that they played a good game. I'm happy he's the head coach. I'm happy for any brother that's doing it and is successful, man. I truly am. I don't know where all this stuff comes from. I had to respond because — my mama taught me that."
But Sanders admitted there was a moment during the game that he allowed the thought of Norvell getting the best of him enter his mind.
"I said we can't let this dude win," Sanders said. "There ain't no way we let this dude win. This press conference is going to be unbearable if we let this dude win."
Folsom Field is quickly turning into a place to spot celebrities. Dwayne "The Rock" Johnson was present after serving as the guest picker on "College GameDay." Shortly after Ralphie, the school's live buffalo mascot, ran, a rapping Lil Wayne led the Buffaloes out of the tunnel. Others such as Kawhi Leonard and rapper Offset also made their way to Boulder.
"If I was the other team, I'd be so scared right now," Shilo Sanders said about the pregame atmosphere. "They got Lil Wayne over here, Coach Prime doing his thing. They got a whole animal running around."
For as well as Colorado State played for long stretches, the Rams couldn't get out of their own way. They committed 17 penalties for 182 yards, several of them personal fouls that came at crucial moments.
Only six teams in the past 20 years at the FBS level have been penalized more yards in a single game.
"Obviously, we had too many penalties. I can't even speak about it. It's so ridiculous," Norvell said. "And it's a real shame, because a lot of those penalties took away a lot of great efforts from our kids. I've never seen such a lopsided game penalty-wise.
"I do give Colorado credit. They're a very good football team."
The stakes increase significantly from here for Colorado. After going 3-0 in nonconference play, it plays at No. 13 Oregon next week before hosting No. 5 USC on Sept. 30.