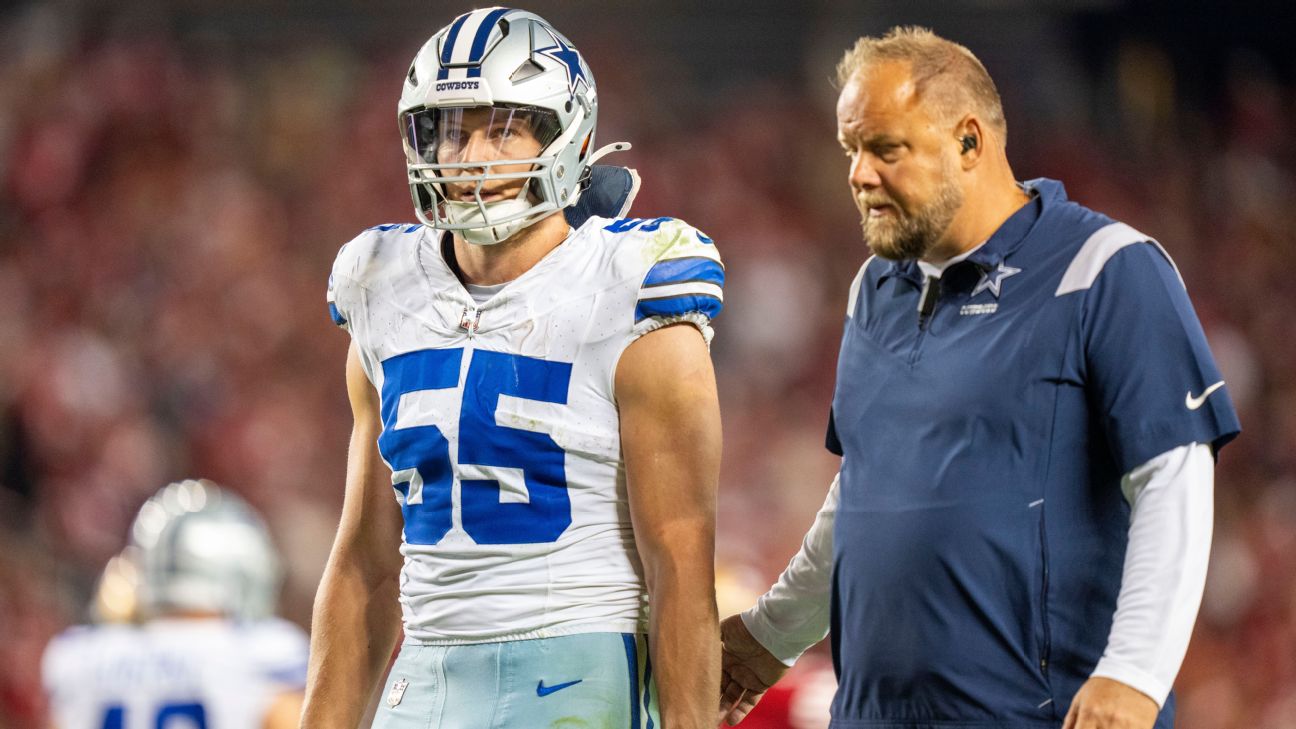 FRISCO, Texas — Cowboys linebacker Leighton Vander Esch's season is over because of a neck injury, and his career is also in question.
"We had just completely left it up to how he was evolving, but of course it's such a very significant loss for us," owner and general manager Jerry Jones said on 105.3 The Fan in Dallas on Tuesday.
"He's an integral part of that defense out there. We just wish him well, and just the nature of his potential injury here causes me to really think longer term and beyond what it means for next week or beyond what it means for next month. It has everything to do with what's best in his interest."
Vander Esch, 27, was eligible to come off injured reserve this week after getting hurt Oct. 8 against the 49ers, but he still has lingering symptoms from that game. He was injured on a play in which he was pushed from behind into the right leg of Micah Parsons, jamming his neck.
Vander Esch has 35 tackles, one tackle for loss, two quarterback pressures and a fumble recovery that he returned for a touchdown in five games.
He has a history of neck issues, coming into the league in 2018 with concerns before the Cowboys took him in the first round out of Boise State. He led the Cowboys in tackles as a rookie and was named to the Pro Bowl but missed seven of the final nine games in 2019 because of a neck injury.
He had a fusion procedure following that season and managed to play 41 of 51 games, missing time with a broken collarbone (2020), ankle (2020) and neck (2021) injuries. He missed the final four games last year with a stinger but came back to play in both playoff contests.
The Cowboys have moved Damone Clark to Vander Esch's spot, with converted safety Markquese Bell seeing time in sub packages. In Sunday's win against the Giants, Rashaan Evans played a season-high 28 snaps and the Cowboys plan to add him to the 53-man roster after using all three of his practice squad elevations.
"It was definitely part of the progression that we wanted to put him on, so that was the plan going into this game," coach Mike McCarthy said Monday. "Just the way the game went, it was good to get him more reps than we probably thought he would get. That was great. The personnel decision is definitely in front of us. We have some decisions to make."